Pasternack Enterprises Expands Line of RF Noise Sources


-- Medium and High Output RF Noise Sources Up to 18 GHz
from Pasternack


December 6, 2012 – Irvine, CA - Pasternack Enterprises, Inc., a leading ISO 9001:2008 manufacturer and global supplier of RF and microwave products, expands their line of high and medium output RF noise sources. This new line of noise sources is perfect for applications requiring reliable frequency levels up to 18 GHz.

Pasternack Enterprises' coaxial RF noise sources (also known as RF noise generators) are diode-based microwave components that produce white noise for system performance evaluation such as noise figure. RF noise sources / noise generators from Pasternack are commonly used in production and lab test environments.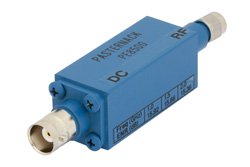 Pasternack's 50 Ohm RF noise sources are available with SMA RF outputs and BNC bias inputs or SMA connector inputs. This expanded line of RF noise sources have operating frequencies ranging from 1 GHz to 18 GHz and have a maximum noise output between 15.5 dB and 35 dB excess noise ratio (ENR).

"Our expansion of medium output and high output RF noise sources is a great addition to the breadth and depth of our growing active RF/microwave component family," says Gerry Camacho, VP of Technical Services at Pasternack Enterprises, Inc. "These new RF noise generators help expand Pasternack's reach into the active components market to address increasing customer demands in this arena."

The RF noise sources from Pasternack are available now. View the new RF noise generators with accompanying detailed specifications on Pasternack's website or by visiting http://www.pasternack.com/rf-noise-sources-category.aspx directly. Pasternack Enterprises, Inc. can be contacted at +1-949-261-1920.



About Pasternack Enterprises, Inc.
A leader in RF cables, adapters and connectors since 1972, Pasternack Enterprises is an ISO 9001:2008 certified manufacturer and international supplier of RF, microwave and fiber optic products. Pasternack offers same-day shipping of the industry's broadest selection of quality RF and microwave products.



Contact:
Ken Vitto
Pasternack Enterprises, Inc.
17802 Fitch
Irvine, CA 92614
(949) 261-1920



Posted 12/7/2012